Welcome Back to Banquet of the Word!
Join us every week for background on this Sunday readings.
Our mission is simple:
We want to help everyone in "pew-land" get more out of mass.
Fun Fact: The Baptism of the Lord (last Sunday) is a "both/and" day. It is both the last day of the Christmas season and the first Sunday in Ordinary Time. As a result, here we are in the Second Sunday in Ordinary Time. Why does the Church use the term "Ordinary?" It doesn't mean "ordinary" as in – "regular" or "without excitement."  At its root is the term "Ordinal" or "Order" – as in, going about the year in an orderly fashion of first, second, third, all the way to thirty-third. Now the liturgical color is green, signifying a time of growth in the Church (vs. penance during Lent or Advent, and vs. celebration during Christmas, Easter, or other feast days).
Let's jump in!
First Reading: Isaiah 62: 1-5
The 1st Reading is Old Testament. It always links to the Gospel.
Isaiah is broken into 2 major parts: 1) The Book of Judgement (ch 1-39: the people have turned their back on God and Judgement will come) and 2) The Book of Consolation (ch 40-66: God will restore them eventually, and never abandon them).  Despite the people's stubborn nature, God consistently shows His parental nature, correcting His children repeatedly.  Yes, he allows hardship for them, but always for the sake of restoring them to Him. He never abandons them. He loves them unconditionally. In the same way, when we encounter hardship, we must Trust in His ways, recalling that He will never abandon us either.
We're in chapter 62 this Sunday – a joyful part of Isaiah's book of consolation. Isaiah is so filled with joy that he cannot be silent! Despite the darkness the people are in at Isaiah's writing (we're around 800-700 B.C. and the Assyrians are knocking on their door, about to conquer and exile them), God will eventually do some truly great things for His people and lead them back to their land, land which God promised them in the covenant with Abraham.
Think for a moment about your name. What is your birth name? Your maiden name? Your Confirmation name? Your married name? When do we receive new names? During life's big changes when we experience personal re-birth, or re-dedication – either to the Lord (at baptism, confirmation, entering religious life) or to your spouse (women taking on a new last name).
Did you notice Isaiah had some issues with his 'caps lock' key? He capitalized words like "Forsaken", "Desolate", "My Delight" and "Espoused." These are "before and after" names for God's people Israel. What we see here is that God comes, He re-names His people.  God will re-name His people. He will bring them out of the old ways of slavery and sin (when they were "Forsaken" and "Desolate") and into new life. For the people in Isaiah's time this means they'll eventually return to their land; for us it means that through Christ, we are reborn in baptism and referred to as "My Delight" and "Espoused."
For Zion's sake I will not be silent,
for Jerusalem's sake I will not be quiet,
until her vindication shines forth like the dawn
and her victory like a burning torch.

Nations shall behold your vindication,
and all the kings your glory;
you shall be called by a new name
pronounced by the mouth of the LORD.
You shall be a glorious crown in the hand of the LORD,
a royal diadem held by your God.
No more shall people call you "Forsaken, "
or your land "Desolate, "
but you shall be called "My Delight, "
and your land "Espoused."
For the LORD delights in you
and makes your land his spouse.
As a young man marries a virgin,
your Builder shall marry you;
and as a bridegroom rejoices in his bride
so shall your God rejoice in you.
Responsorial: Psalm 96: "Proclaim his marvelous deeds to all the nations."
(The Psalm is a "response" to what we heard in the 1st Reading)
Sing to the LORD a new song;
sing to the LORD, all you lands.
Sing to the LORD; bless his name.
Response: The theme here is prophecy, as in the verb "to prophecy", which is translated as "The act of interpreting divine will or purpose." This is what the prophets of old did, and it is what we are called to do as well.
How do we interpret God's will in our lives? Are we good listeners? Do we spend time in the classroom of silence to truly put our own will and desires aside to hear His will and desire? He speaks in the silence. He speaks through people and events. He's always speaking; but how well do we listen? The psalm calls us to proclaim his marvelous deeds to the ends of the earth, to all the nations.
How exactly are we supposed to proclaim these marvelous deeds? Paul has some words of wisdom for us in the next reading, a guidebook if you will…
 Second Reading:  1 Corinthians 12: 4-11
(The 2nd reading is usually from Paul's letters. Speaks to how the early church was built after Christ's death and resurrection).
Paul tells the Corinthians – and us – to prophecy by using our spiritual gifts.  This is how we proclaim His marvelous deeds.
What are your spiritual gifts? Are you a good friend?  Maybe you're a great cook, or pianist, or artist. Do you bring joy wherever you go? How do you live your faith? In what ways do you set a good example to others? Sometimes the greatest witness can be to simply "know thyself." That is, figure out what your gifts are and spend your life honing and using them for the glory of God. When you know a person and they're doing what God calls them to do, isn't that obvious? It's refreshing. It encourages others to seek out the inherent joy these people experience every day.  God has so much planned for us. He's given each of us special and intentional gifts. This Lent, enter into prayer to discover His plan for your gifts.  Think you're using them pretty darn well? Not sure what to do now? Tell God you need a kick in the rear to reach higher for Him. He will show you the way.
There are different kinds of spiritual gifts but the same Spirit;
there are different forms of service but the same Lord;
there are different workings but the same God
who produces all of them in everyone.
To each individual the manifestation of the Spirit
is given for some benefit.
To one is given through the Spirit the expression of wisdom;
to another, the expression of knowledge according to the
same Spirit;
to another, faith by the same Spirit;
to another, gifts of healing by the one Spirit;
to another, mighty deeds;
to another, prophecy;
to another, discernment of spirits;
to another, varieties of tongues;
to another, interpretation of tongues.
But one and the same Spirit produces all of these,
distributing them individually to each person as he wishes.
Gospel: John 2: 1-11
The Gospel is the highest point of the Liturgy of the Word. That's why we stand.
We are about to hear from and be instructed by Christ Himself.
We're in Year C, Luke's gospel, but we hear from John this week. The Church chooses to start us off in ordinary time in a beautiful way – with Jesus' first public miracle at the wedding at Cana. This story is only recorded in John's gospel. Next week, we're back to Luke.
This gospel is packed with meaning and connections. It can be dissected in myriad ways, from the fact that Jesus performed this miracle at a wedding feast (we refer to Mass as a wedding feast), to the numerology hidden in the six jars, to the meaning in the materials Jesus uses here, turning water into wine, both of which will pour from His side at the cross (Eucharistic blood is consecrated from wine). But today, let's stick with the conversation between Mary and Jesus.
In those days, weddings were numerous days long and filled with much celebration. To run out of wine was no small issue, but an embarrassing concern for the couple and the family as a whole. Some scholars note that Mary's concern for the situation may indicate that she is a relative of the wedding party. She goes to Jesus and says, "They have no wine."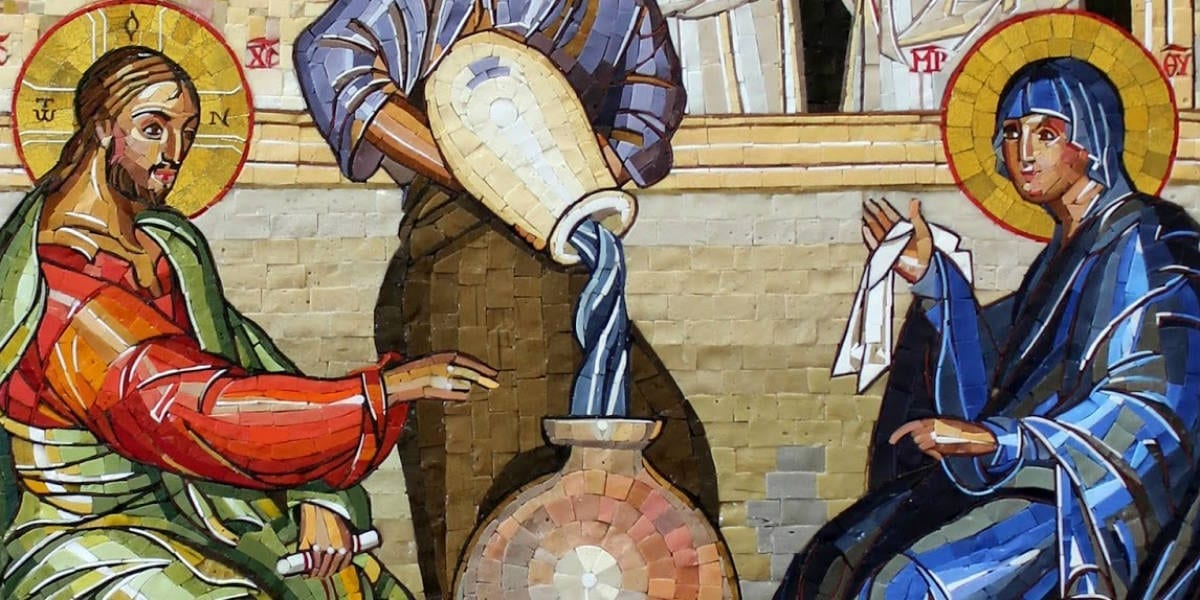 Let's pause here. I heard a beautiful commentary on this. Mary knows what her son can do. She knows He has not yet performed any public miracles, but like a good mother who knows her son in a unique and intimate way, she nudges him. Notice she doesn't go on and on about why there is no wine. She doesn't give reasons, place blame, or offer suggestions on how to fix the problem (don't we sometimes approach prayer requests like this?). She simply states a fact: They have no wine.
In this small act, Mary is a model for us in our prayer. First, she has utter and complete faith in her Son, that He will deliver. Second, she serves as an intercessor for the wedding couple by taking their wishes to Jesus, just like she takes our prayers to Jesus, with full faith that He will deliver. So next time you have a need, consider asking with the kind of faith Mary displayed here, (and ask Mary to take your prayers to Him).
"Jesus, my child is very sick."
"Jesus, I lost my job."
"Jesus, I've shattered a relationship."
"Jesus, I've lost faith in our world."
"Jesus, I'm afraid to hear the test results."
All our hopes, fears, and dreams are already contained in these few words. Can you and should you pour out more to Him? By all means. But never think you must be verbose. Especially during times when we are drained of all energy and maybe even the desire to pray, we can at least tell Him as Mary did: "Jesus, I have no wine."
This conversation between Mary and Jesus is also the fulfillment of an Old Testament story. As noted in the Ignatian Study bible, "Genesis 3 is the reverse image of the story of the Wedding at Cana. As Eve prompted Adam to defy the Lord and drag the human family into sin and death, so Mary, the new Eve, prompts Jesus, the new Adam, to initiate His mission of salvation."  I invite you to sit with this statement, to think and pray on this beautiful reality.
Lastly, in John 2:5, Mary tells the servants, "Do whatever He tells you." These are the final words of Mary in the New Testament. She commands the servants in the story – and we in the world – to follow Him, and do whatever He tells us. Those are some powerful "last words."
So…what is Jesus telling you?
There was a wedding at Cana in Galilee,
and the mother of Jesus was there.
Jesus and his disciples were also invited to the wedding.
When the wine ran short,
the mother of Jesus said to him,
"They have no wine."
And Jesus said to her,
"Woman, how does your concern affect me?
My hour has not yet come."
His mother said to the servers,
"Do whatever he tells you."
Now there were six stone water jars there for Jewish ceremonial washings,
each holding twenty to thirty gallons.
Jesus told the them,
"Fill the jars with water."
So they filled them to the brim.
Then he told them,
"Draw some out now and take it to the headwaiter."
So they took it.
And when the headwaiter tasted the water that had become wine,
without knowing where it came from
— although the servers who had drawn the water knew —,
the headwaiter called the bridegroom and said to him,
"Everyone serves good wine first,
and then when people have drunk freely, an inferior one;
but you have kept the good wine until now."
Jesus did this as the beginning of his signs at Cana in Galilee
and so revealed his glory,
and his disciples began to believe in him.